Phillies release 2022 schedule
The Phillies released their 2022 regular season schedule on Wednesday.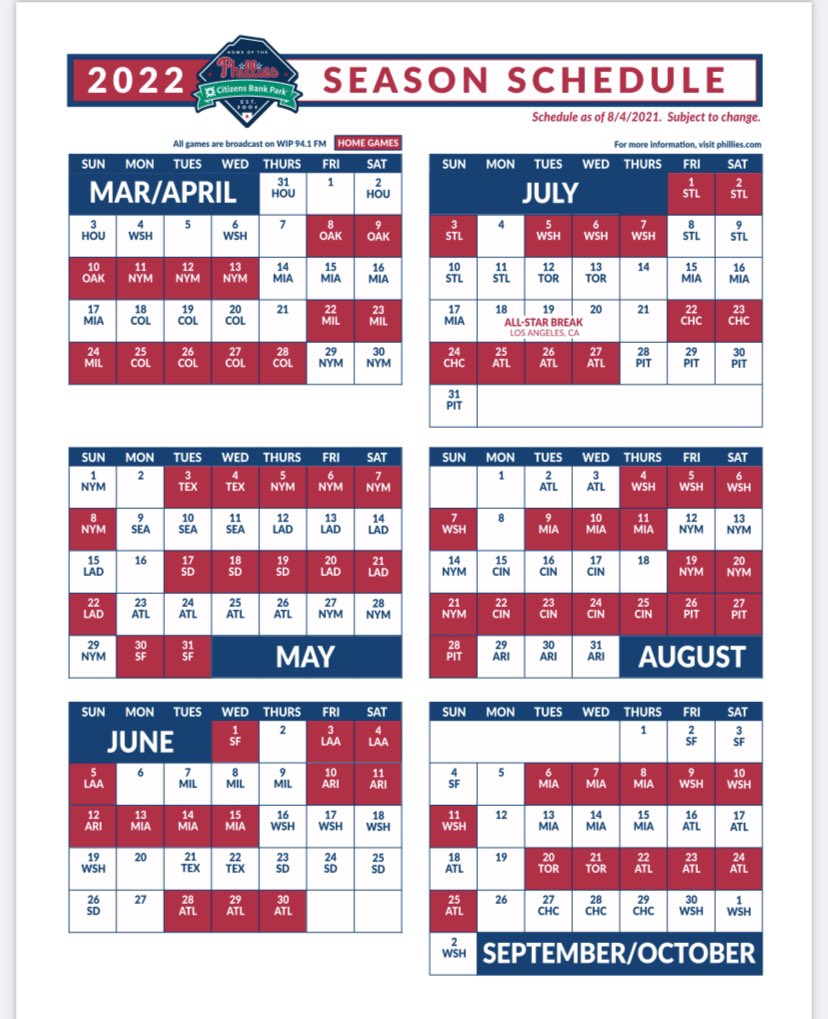 Let's take a look at some key dates to circle on the calender.
March 31st
The Phils will open the 2022 campaign on the road facing off against the Houston Astros. This'll be the first time the Phillies have played the Astros since their cheating scandal. Additionally it'll be the fourth time in Astros history that they've opened against the Phillies, the most notable being opening day of 1965 when the Astrodome opened.
April 8th
The Phillies 2022 home opener will be against some former residents of Philadelphia, the Oakland Athletics. The Phils and A's were supposed to play each other in 2020 at Citizens Bank Park with both teams scheduled to wear throwback uniforms. We'll see if those uniforms make an appearance in 2022.
May 3rd
It's not too often the Texas Rangers come to visit, but the Phillies and their fans will have the opportunity to see Spencer Howard return to Citizens Bank Park.
May 9th
The Phillies last visited T-Mobile Park in Seattle in 2017. They'll have a chance to face another team facing a long playoff drought when they meet the Mariners in 2022.
May 23rd
Strangley enough the Phils won't play the division rival Atlanta Braves until late May. The Braves will welcome the Phillies back to Truist Park, presumably still without their star Ronald Acuna Jr. who suffered an ACL tear in July of 2021.
June 3rd
The Phillies will welcome home Mike Trout when the Los Angeles Angels return to Philadelphia in early June. This will also give Phillies fans a chance to see two-way star Shohei Ohtani for the very first time!
June 21
The Phillies will visit Globe Life Field in Texas for the very first time. The last time they visited Arlington was in 2017, when the Rangers played at Globe Life Park across the street from the new indoor stadium.
July 12th
Look out Canada here come the Fightins! The Phils will cross the border for the first time since 2018 when the face the Blue Jays at Roger's Center in 2022.
July 19th
The MLB All-Star Game will head west as Dodger Stadium will host for the first time since 1980, the same year the Phillies won the World Series.
July 22nd
The Phillies will welcome the Chicago Cubs to open up the second half of their season.
August 29th-September 4
The Phillies will head west to play the Arizona Diamondbacks and the San Francisco Giants on a key six game road trip entering the final month of the season.
October 2nd
The Phillies close out their 2022 campaign on the road against the Washington Nationals.
Overall, the Phillies will have an interesting schedule, and they'll have to travel more than usual as they face the AL West.